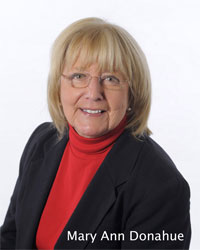 We are very pleased to announce the addition of pledge drive consulting to the ever-expanding CBA catalog of services being offered to our public broadcasting co-op members, with the addition of long-time public television pledge drive producer Mary Ann Donahue as our newest associate.
Mary Ann will work alongside CBA staff to professionalize and optimize stations' on-air fundraising drives, with services that include:
• Scheduling of pledge drives
• Writing and editing of pledge break scripts
• Casting and directing pledge 'talent'
• Projecting on-air revenue
• Producing on-air spots to support direct mail campaigns
Mary Ann is recognized as one of the leaders in pledge drive production and marketing in the system. She spent 20 years at Thirteen/WNET New York as Director of On-Air Production and is a multiple "On-Air Achievement" Development Award winner.  She is also one of the "Master Teachers" at PBS' Pledge Academy. Mary Ann is also a four-time Emmy Award-winning producer and writer whose experience covers all aspects of entertainment media from Broadway to daytime television and feature films.
This exciting partnership with Mary Ann is just one way CBA is helping its station-partners by adding much-needed services in these tough economic times.
Ask your CBA account representative how to put Mary Ann's expertise to work during your next pledge drive or how to plan a fully integrated campaign. Send an email to partnership@carlbloom.com or call us at 914-761-2800.