CBA has developed a ZIP enhancement model called the "ZIP Performance Index" or ZPI, to allow regional organizations to more effectively allocate their marketing resources by applying prospect selection and deletion intelligence based on geographic location and other influential variables.
Recent scholarship has shown that over the past several decades there has been an increasing level of clustering in America, such that people with similar ways of life, beliefs, and politics are self-segregating into states, cities and importantly, even neighborhoods.  Our experience in looking at results of direct marketing campaigns by geography has proven that certain areas – most easily defined by ZIP code – perform consistently better for organizations than others.  This behavior, when coupled with basic demographic data such as income, gender and age, and when analyzed correctly, leads to targeting the most profitable areas and the most profitable list segments for acquisition campaigns.
As a result of multi-dimensional analysis of historical acquisition performance, CBA scores each ZIP code on response rate, available universe, ROI and a wide variety of other factors.   Results studied over several campaigns are used to avoid any outlier results.  CBA then creates a customized Zip Performance Index which allows for the segmentation of the historically mailed ZIP codes into four major performance categories: Excellent, Good, Marginal and Unproductive, similar to the chart below.

Once the analysis is complete, a comparison can be made between the higher ranking ZIPs and the unproductive ones.  By excluding these underperforming ZIPs, response rate is increased dramatically, as is net revenue.  In most cases there is a significant amount of 'saved' expense that can be used for other, more productive fundraising purposes, such as increasing mail volumes in the better performing categories.
CBA's data analysis team then uses advanced geographic information systems to map each ZIP Code by rank cohort and then to visually compare with member quantities and member penetration, the lapsed file and an evolving list of other factors. Some examples are below.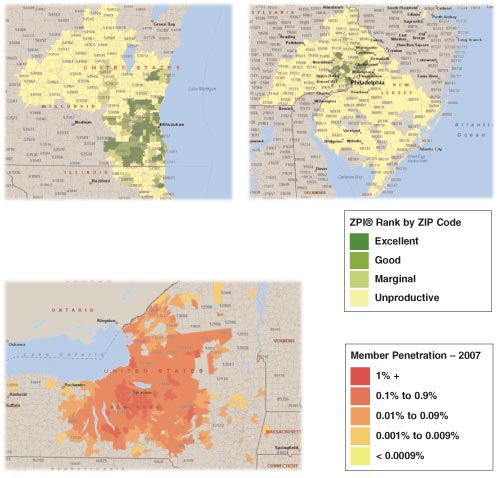 Using existing data, CBA can index acquisition response and other data for your organization.